Click to test properties:
If you're really stuck...
Click for expanded view: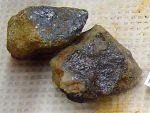 Known/experimental properties:
Habit:

Fine/medium grained aggregate. Can feel greasy.

Lustre:

Metallic

Hardness:

1 - 1.5

Cleavage:

Perfect basal

Fracture:

Uneven

Streak:

Blackish lead-gray

Rxn w/ Acid:

Unknown

Magnetism:

None

Specific Gravity:

4.6 - 5.1

Hint: Colour is best indicator. Greasy feel and luster are good as well, as is its relative softness.