I find I always work faster when I'm organized, and with a 6 month old daughter, a beautiful wife and a 9 to 5 job, I have to do something to free up some time for video gaming! According to Steam at the time I wrote this, I barely logged 2 hours in the last couple weeks, instead spending far more worthwhile time with my family.
I digress, but my point is is that in order to get ahead on everything and not simply quench the day-to-day fires, I'm looking towards productivity software on the Mac to keep my tasks quick and organized.
I'll be posting more on my findings on productivity software later, but one app that I've used longer than the others, blissfully collecting data for me is Time Track (free), and Time Track Pro ($4.99).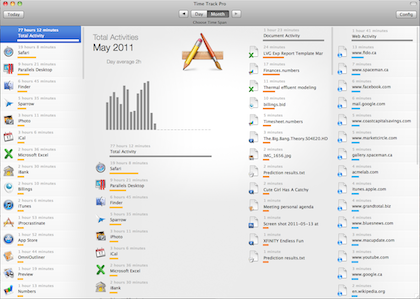 You will rarely notice it running, save for a small menubar icon that sits alongside the time, Bluetooth, wifi and other icons you may have at the top-right of your screen.
Time Track will silently record the amount of time you spend in each program, and produce nicely coloured reports by day or month showing the results. If you have Time Track Pro, you'll also get document tracking and webpage tracking, so you can very accurately see just what you were up to.
Why is any of this useful? Time management and personal behavioral analysis I say! For example:
– see how much time you spend on Digg, Slashdot, Facebook, Twitter, and so on. Maybe some news sites deliver info quicker than others? Or see where you're billable time isn't going? Maybe stopping one of these sites would free up an hour to spend time with family? Now you can decide exactly which one.
– if you're a freelancer, you can see exactly how long you spend on each file for your client
– learn about your habits
– track if programs you bought were really worth it by how much use they get
– see how much you've been gaming
– other obsessive opportunities
I've used it for three weeks now. In that time I've interacted with my computer for 100 hours, with my most popular apps being Safari, iPhoto and Parallels.
In summary, it's a great app that takes no resources and gives you some excellent introspective information for you to interpret. I'm curious to see what I can read into it given another few weeks!
Pros:
– Unobtrusive
– Attractive interface
– Uses minimal system resources
– Transfer your data from Time Track to Time Track Pro with a single button press
Cons:
– Unable to export any data it collects, even in the Pro version
Even the non-pro version I enjoyed running on my machine. Now that I have the pro version, this will stay installed for quite some time.
Explore posts in the same categories:
Elegant Mac
,
Technology