I rarely will surf the TV to see what's on. Instead, my wife and I both have specific shows we like to watch, and we like watching them when it's convenient for us. To that end we use a PVR, some iPhone/iPad apps, and an occasional internet stream. Even with all that, we sometimes miss shows. Particularly when the TV networks put all the good shows on at the same time (darn you Thursday nights)!
To that end, I simply must know when new episodes of my favourite TV show are released, as I dislike not knowing why a show didn't record. Overlapping shows, repeat episodes, breaking news, prolonged sports games, etc, it's all happened before, and destined to happen again.
I need an elegant Mac solution to this problem! I found it in a website called TVcountdown.com, which gleefully allows you choose your shows and export them to iCal. Better yet, you can subscribe to geek culture, and never worry about updating it again!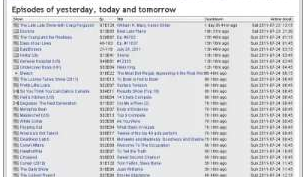 Here's how you do it:
Visit TVcountdown.com.
Scroll down to the bottom half of the page, where it says "Select your favorite shows to get a personal listing," and click the checkbox for each show you see that you want in your new iCal calendar.
Right-click (or control-click if you haven't set up right-clicking yet) on the Listing in iCal format link at the very very bottom of the page, and go to Copy link.
Open iCal, and go to "Subscribe" in the "Calendar" menu. Paste the link into here and click "Subscribe".
That's it! You now have all your favourite shows in your iCal on their separate calendar that you can toggle on and off. I like syncing this calendar with my iPhone too.
Explore posts in the same categories:
Elegant Mac